Due to the Corona crisis, Summit 2020 has been canceled

 

😢
We are aiming for next year – International Summit 2021 in Sansefjord

👍

🙂
It's time for a new CWA International Summit! This year, the CWA chapter in Sandefjord, Norway, in collaboration with SUA-Norge (CWA-Norway) and the Cycling Without Age International in Copenhagen, welcome chapters and affiliates from all over the world to an unforgettable weekend in Sandefjord.
An amazing line-up
We have already booked inspiring speakers and planned exciting activities, and we are proud to announce that Susan Pinker from Canada is one of them.
May 17th is Norway's Constitution Day, and you will be able to experience it both as a spectator and to join the afternoon parade. We promise that you will never forget it. Be prepared to make new friends and return home, even more passionate about spreading more «wind in the hair» to the elderly.

Susan Pinker – psychologist, author (The Village Effect) and and social science columnist
Accommodation
We cooperate with Scandic Park Hotel, where all the seminars will be held. We have deliberately placed accommodation and seminars together. This will increase the social aspect of the event, so that you will never walk alone in Sandefjordtown.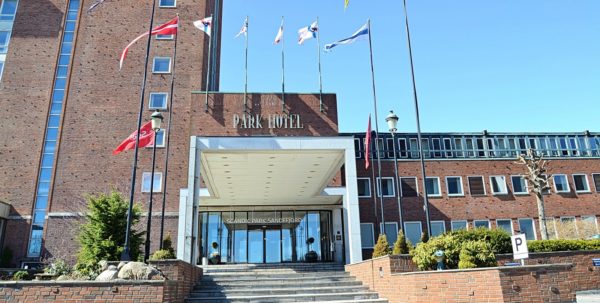 We can offer you the following early bird package prices:
Accommodation in single room, seminar and all meals included: NOK 5,600
Accommodation in double room, seminar and all meals included (per person): NOK 5,000
Seminar and meals (except breakfast) – no accommodation (per person): NOK 4,000
All prices include welcome package, talks, workshops, snacks, venues and WiFi at the hotel. Drinks are not included.
Would you like to stay an extra night? It costs NOK 1.290 pr. night in double room (for the room), and NOK 1.090 in single room. For those who want to bring their spouses/friend who will be staying in the same room, but will not attend The Summit, it costs NOK 645 pr. night. If he/her also wants to attend dinner Friday and Saturday night + lunch May 17th., it costs an additional NOK. 1000.
We emphasize that online prices «live their own lives» and change from day to day. If you book accommodation yourself, please note the possibility of change or cancellation.
Registration and sign-up deadline: March 15th, 2020
Your sign-up will be confirmed when your payment is registered.
(You will get back to this page after finishing the registration form)
Payment info
Bank transfer:
Bank name: Sparebank1 Telemark
Bank account: 2610.31.12310
IBAN/BIC: NO4226103112310 / SPTRNO22
PayPal:
We can not accept PayPal transfers due to high fees! 🙁